One of the things I cover in my Life 3.0: 6 Secrets program is that we need to accept ourselves and get over what anyone might think. I got a chance to test myself this past weekend.
Twice a year the Compel Speak Sell business mastermind I'm a member of gets away for retreat. We spend 3 days going deeper into the system, working on our stuff and helping each other take our products and services to the next level. We also eat, drink and play.
Friday night is party night. Wine tasting in Ann's room (Ann Evanston is our amazing coach), bling awards*, then after dinner we hit the hotel lounge and dance.
The pattern has been that the younger members poop out early and the old broads party on. This year Ann and I were the only two to stay through the last set. As we waited for the band to come back from last break Ann checked a notification on Facebook. Next thing I knew she was cracking up and holding her phone out for me to see.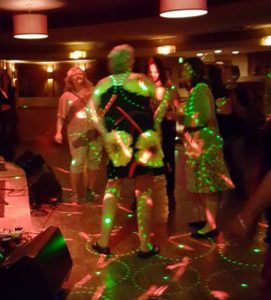 Now, here's where the getting over yourself part comes in… displayed on the screen was a picture of the back of me on the dance floor. You can see for yourself.
I'd never really looked at the back of the dress I was wearing.  OH MY! My reaction could have gone two ways
I'm never wearing that again, I'm mortified!
This is now officially my favorite dress, that's hysterical!
This Bodacious Bad-Ass Old Broad is going with #2 every time.
What would have been your reaction?
If you want to know where you are on the journey to becoming a Bodacious Bad-ass Old Broad take this quick fun assessment.
One thing Bodacious Bad-ass Old Broads do is ask for what they want.  If you enjoyed this I want to be compensated. It won't hurt a bit, I promise. You can compensate me by adding a comment or sharing this on your favorite social media sites. I've even made it easy for you – just look for the sharing buttons below.
*If you want to know what bling awards are you'll have to join the program.