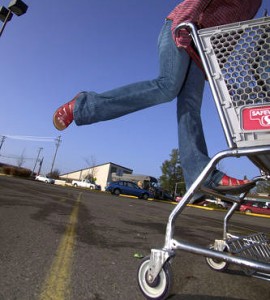 Take it from me, no matter how much your knees might hurt do not succumb to the temptation of using your husband's handicap placard to save a long walk across the parking lot to get to the grocery store if he isn't in the car with you. Even if there are 7 or 8 handicap spaces available, resist! Yes, I admit it. That's exactly what I did. Yes, I know that's a big no-no. Now I want to share with you how big a no-no it turned out to be.
I got caught and was given a ticket and an order to appear in court. No chance of just paying the fine. I had to show up. In Criminal Court! In Napa County! At 8:30am.
The courthouse is 12 miles from where I live. I left one hour early because I knew traffic would be fierce and I would rather wait around than risk being late. I arrived in the court room about 2 minutes before the judge (Commissioner) walked in. Did I mention the traffic was fierce?
The first case heard – hit and run. Fine $1000 (and 8 days in jail)
Second case – petty theft. Fine $220 and he can't shop at any Walmart in Napa County for a year. If he is a good boy and doesn't get caught doing it again in the next 12 months the fine is waived.
My case – misuse of DP placard. Fine $1099 (plus fees so it's really $1289). At least there's no jail time.
The morals of this story:
If you want to shop at Walmart, don't get caught shoplifting there.

If you don't want to spend time in jail, don't run from an accident.

DO NOT park in a handicap space using someone else's placard. That mistake will really cost you.
It's way cheaper and a lot more fun to grab a cart and try to ride it to the door. Did I do that? Nooooo, I forgot to practice what I preach in my programs about turning "ho hum" into "Whoo Hoo!" I went for fast and efficient (and illegal) instead, passing up a chance to add a little playfulness to my shopping excursion.
You might not pay this high a price for taking the fast and efficient way, but missing a chance to do "Whoo Hoo" over "ho hum"  has a price too.