Description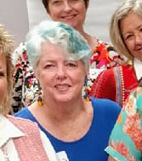 If you've seen or met me anytime within the past 3 years you probably noticed that I sport a blue-aqua-teal stripe in my hair (the color depends on the lighting and how long ago I refreshed it.) It started out as something fun to try and I've liked it so much that it's a permanent part of my look.
I figure if I'm on my way to being a blue-haired old lady (bodacious bad-ass old broad really) I might as well embrace the blue. It gets a lot of positive comments, or at least those are the only ones I hear.
This is the product I use. My very precise and high-tech method is to apply the color using a 1″ wide cheap artists paint brush.  I part my hair across my head and stick on a headband to hold the back out of the way, then just start painting my chosen swath. Then I usually take a book, and maybe a glass of wine and spend some quality time soaking in a bubble bath. By the time the water is too tepid to stand and I'm all pruny and puckered it's time to stand up and shower the stuff out.
There are all kinds of instructions about washing with cold water and protecting the color. Like so many other instructions, I just ignore them. But then this particular color, aqua,  grabs and holds in my hair really well and lasts about 6 weeks before I need to brighten it up again.
I haven't had the same results with Flamingo Pink, or Orchid. Maybe if I actually followed the instructions I could sport those colors as well. Hmmm…nope, I'll stick with Aqua.