This piece is called Key No.1 for obvious reasons. Well, the key part is obvious. The No.1 is because I expect keys to show up in future works and my art naming imagination may fail me again.
I've been experimenting with different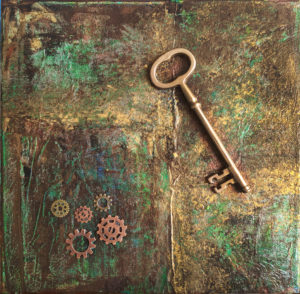 techniques of applying paint to canvas. This piece started out as something completely different.  I lived with it for awhile and decided it didn't pass the "would I want this hanging in my living room" test.
No sense wasting a perfectly good canvas so I started layering on textures and paints, rubbing away parts to reveal hints of the original colors below.   I love the resulting look; a little grungy, subtly colorful, and strongly metallic. But it was still lacking something.  It hung on my studio wall for a few weeks and I would sit and look, waiting for it to tell me what it wanted.
A couple of days ago I ran across a small and very heavy box in my supply cabinet. It's full of old keys my mother collected over 50 years ago.  Perfect!
Now it's ready to go to a new home. If you're interested, click on the picture to go to my shop.
Specifications: 10″ x 10″ x 1/2″ on wrapped canvas. Main colors: metallic gold, green, and antique copper. Media: acrylic with brass and metal embellishments. Unframed.